Mojiko Retro District / The Short Summary Of Moji Port Twon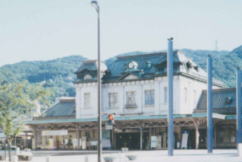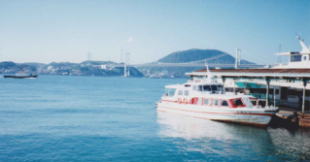 ---
Mojiko Retro District is a sightseeing area at Moji-ku in Kitakyushu city. The area is organaized with several buildings on romantic colors of Taisho era. Several western-style buildings once owned by trading companies having flourished in Taisho era on international business being remained around JR Moji Station is on the center of this area, and hotels and shopping spots built in the western-style are there in the port town. The overview of Moji Retro District is awarded as one of the 100 Best Townscapes by the Ministry of Land, Infrastructure, Transport and Tourism. The route includes Moji Retro District, Karato in Shimonoseki city and Ganryujima Island famous for the island where the Duel between Musashi Miyamoto and Kojiro Sasaki happened, is very popular and crowed with many tourists.i
The Kanmon Strait separates Honshu, the main island of Japan, from Kyushu. At this strait, many major historical events occurred. The Strait has long been a strategic point for marine and land transportations, especially it became the international trading base from the Meiji to the Taisho era and several buildings standing today in the port town had been built from the Meiji Era to the Taisho Era (1914 to 1931). So Moji Port Town had been one of the flourished port town from Meji to early Show era, it contributed outstandingly the development of Japan. The location of Moji was geographically near to China, it made the port a more important international trading base. In 1914, Mojiko Station was completed, and ships from Europe arrived regularly to the port. Then Moji Port Town was crowded business people and it was counted one of the three largest ports in Japan like Yokahama and Kobe. Now Mojiko Station is a famous wooden building and it was designated as the important cultural property by the National Government. This wooden station building gives nostalgic impression to visitors to Mojiko with neighbor buildings. So this district is one of the major sightseeing areas of northern Kyushu, since it has several elegant historical landmarks such as JR Mojiko Station, the Old Mitsui O.S.K. Lines Ltd. Building, being praised as 'the beauty of the port,' and the Old Moji Mitsui Club, a hotel that Dr. and Mrs. Einstein once stayed. There are many fantastic buildings along the streets in Mojiko in Kitakyushu and Karato in Shimonoseki City across the Kanmon Strait. Besides, the baked curry is very popular and unique dish in Mojiko Retro District.
If you walk on Mojiko Retro District, you could slip in the modern Japan.
Why don't you visit Mojiko Retro District?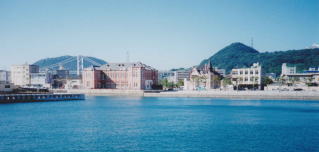 ---
参考
門司港レトロインフォメーションホームページ
北九州市ホームページ
北九州市市観光協会ホームページ
福岡県ホームページ
下関市ホームページ
下関市観光協会ホームページ
デジタル大辞林
ブリタニカ国際大百科事典
ウィッキペディア
Visit A Dental Office Near Mojiko Retro District
---
Visit Events And Landmarks Near Mojiko Retro District
Landmarks
Kanmon Strait and Mojiko Retro District
---